---
Cool SF Pin
I love this and thank you.
Street Fighter - SF II Arcade Marquee
Great pin
Quality is fantastic will be buying from again
Best pins around for the best price.
I absolutely love these pins. I adorned my favorite hats and M.Bison bomber jacket with them! Looking forward to their future releases.
Great pins!
The pins looked really great and the shipping was fast! I look forward to getting more from this series!
Serious Pin
Loved Ryu Tune. The AR feautre is pure gold!
Round one, fight!
Fantastic!! Can't wait for more!
Shoryuken!
Amazing pins! Can't wait to collect them all!
BEAUTIFUL PINS!!
I can't wait to make a video for my Instagram about them & actually put them on one of my bags/backpacks!
These pins are so rad
The pins themselves are super cool even without the AR experience, but that feature makes these pins by far the coolest in my big collection!
Awesome!
I got this as a graduation gift for my friend, this will be a really cool addition to his collection!
Picture perfect
I'm so happy with this. From the price to the quality. The size of the pin. No complaints. The app scans this pretty quickly.
Tetris Fan!
This is my first pin from Pinfinity and my mind was blown away when I used AR for the first time. The pin design is very accurate to the classic Game Boy, not to mention the metal pin feels like high quality and not cheap metal. If you're a pin fan or a Tetris fan, then I highly recommend getting this pin!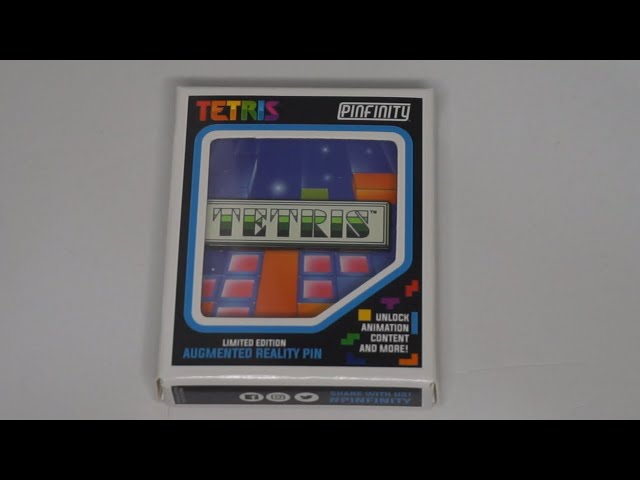 Great pin
Absolutely stunning piece for the collection, the quality is phenomenal!
Tetris pin
Fantastic pin and an awesome AR experience!
Fantastic pin!
I have a pin board at work, and have added it to my collection there. The gorgeous Gameboy green really helps it pop, and a few of my coworkers were amazed when I showed them the app experience.
Bleeds nostalgia
From the GameBoy green color to the classic Russian folk song as well as the cool spritework, this pin bleeds nostalgia and I love it!
A must have!
If you are a hardcore Street Fighter fan you deserve to wear them all on your jacket!
Tigah!
These pins are incredible! I can't wait to collect them all!
Awesome!
Just the thought of an AR pin blows my mind, and I couldn't be happier with the product! Keep up the great work!
Bang for your buck
You notice he stands taller than the other pins. I'm glad they kept his bulkier look rather than the lean look he had in the original version. Please make more ASAP.
High Quality!
Good quality pin, and the AR function scanned quick!
Amazing!
I really love the pin and the music when you activate AR!
Nicely made.
I've had it on my backpack for a week now and I haven't been nice to backpack, and I must say the quality of the pin has really held up. It is nicely made and still has the shine as if I just put it on.
Dead Man's Party!
Very fun to use with screen record!
Excellent Quality, As Usual
I ordered the first two Crypt of the Necrodancer pins and fell in love. Expected nothing less from these new ones and wasn't disappointed!
Love it!
Necrodancer is one of my absolute favorite indie games. This pin is gorgeous, very high quality, and the interactivity is super cute. I can't wait to wear her proudly! This is my 3rd Pinfinity pin, and I'll be back for more =)
Cadence Necrodancer Pin
The quality is great. It's beautiful!
Such a cool pin
Cadence, dance queen #1. Love the pins :D
Amazing product!
I absolutely love these pins! I bought the Crypt of the Necrodancer Skeleton about a week and a half ago, and liked it so much, that I ordered Cadence from the same title, which arrived today. As someone that likes pins, these are really unique! I can't wait to see what you guys come out with next, and now that I see you releasing Capcom pins (Street Fighter) I really, really hope to see some Resident Evil stuff come our way! I am a HUGE Umbrella Corps. fan, and to get an augmented Umbrella pin would be so awesome! Keep doing what you guys are doing, I am excited to see the next pins you make!
I am easily amused
Made Cadence dance in my doorway and then made the skeleton dance on my husband's head. Totally worth it.
Plus, just really nice pins! High quality and I can't wait to show them off.
Love the Game & Love the Pins
Super cool
They look very nice with good detail. Every Narita Boy fan should get these
Stunning
Absolute masterpiece of a collectors item for any fan.
Narita Boy - Limited Edition Pin Set