---
awesome!!
My boyfriend loves these pins. They are all so unique and well crafted. Can't wait to see what other pins they release next!!!
D20 has a cool interactive animation!!
Loved it!
It fired up right away and was really easy to do!
Great
They look great and I cant wait to give them to my boyfriend for his birthday. They are well made.
Wow!
Absolutely loved them. The craftsmanship is great and the art was great. Best pins ever!
Great!
Got it as a gift for someone else but I'm glad they live with me so I can still use it!
Cool SF Pin
I love this and thank you.
Street Fighter - SF II Arcade Marquee
Great pin
Quality is fantastic will be buying from again
Best pins around for the best price.
I absolutely love these pins. I adorned my favorite hats and M.Bison bomber jacket with them! Looking forward to their future releases.
Great pins!
The pins looked really great and the shipping was fast! I look forward to getting more from this series!
It was adorable.
It was adorable and got to me before it was schedule to!
Love It!
I Love This pin! I'm such a nerd when it comes to Tetris and this is such a great pin to wear. AR is the way to go and Pinfinity is killing it! Keep it up!!!
Great gift!
I bought two of these, one for myself and the other for a friend of mine that reintroduced me to Tetris. Since then I've played the game wherever possible. The AR tech on the pin is so cool! The music and the secret menu amazed me as well!
Such cute pins.
The pins meet all my expectations. Very enjoyable. Fun to have.
Serious Pin
Loved Ryu Tune. The AR feautre is pure gold!
Round one, fight!
Fantastic!! Can't wait for more!
Shoryuken!
Amazing pins! Can't wait to collect them all!
BEAUTIFUL PINS!!
I can't wait to make a video for my Instagram about them & actually put them on one of my bags/backpacks!
These pins are so rad
The pins themselves are super cool even without the AR experience, but that feature makes these pins by far the coolest in my big collection!
Awesome!
I got this as a graduation gift for my friend, this will be a really cool addition to his collection!
Repping for Tetris!
Lovely piece paying respect to the game we have all played at some point in our lives.
Tetris Fan!
This is my first pin from Pinfinity and my mind was blown away when I used AR for the first time. The pin design is very accurate to the classic Game Boy, not to mention the metal pin feels like high quality and not cheap metal. If you're a pin fan or a Tetris fan, then I highly recommend getting this pin!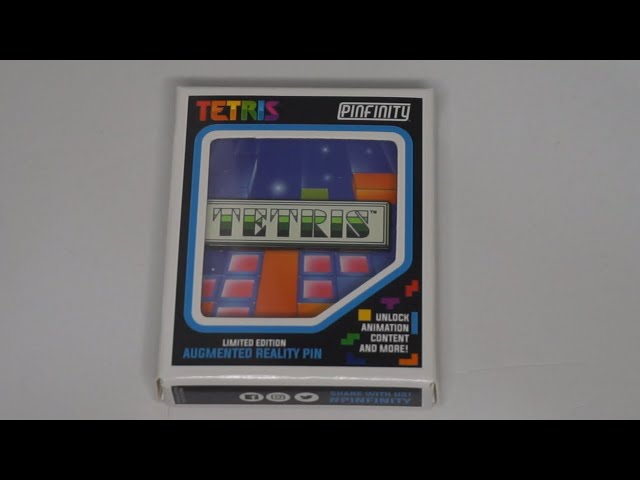 Great pin
Absolutely stunning piece for the collection, the quality is phenomenal!
Tetris pin
Fantastic pin and an awesome AR experience!
Fantastic pin!
I have a pin board at work, and have added it to my collection there. The gorgeous Gameboy green really helps it pop, and a few of my coworkers were amazed when I showed them the app experience.
Picture perfect
I'm so happy with this. From the price to the quality. The size of the pin. No complaints. The app scans this pretty quickly.
A must have!
If you are a hardcore Street Fighter fan you deserve to wear them all on your jacket!
Tigah!
These pins are incredible! I can't wait to collect them all!
Awesome!
Just the thought of an AR pin blows my mind, and I couldn't be happier with the product! Keep up the great work!
Bang for your buck
You notice he stands taller than the other pins. I'm glad they kept his bulkier look rather than the lean look he had in the original version. Please make more ASAP.
High Quality!
Good quality pin, and the AR function scanned quick!
Excellent
Vibrant colours, fun AR Features and really quick shipping. Very fun and exciting products that make me smile
Collector's set
Great product, the packaging is nice 👍🏻
A great addition to my collection!
Looks awesome, and a good gift for my group that has extra surprises with their favorite classes!
Such an awesome buy!
I love this Brucey Parker set!
Love this pin it's magic!
Awesome
I love the design! I love the retro cartoon look! Make more like this one!
Brucey Parker - Burnie (Limited Edition)