Pinfinity Celebrates 25th Anniversary of Worms with Seven-Pin Worms Collection!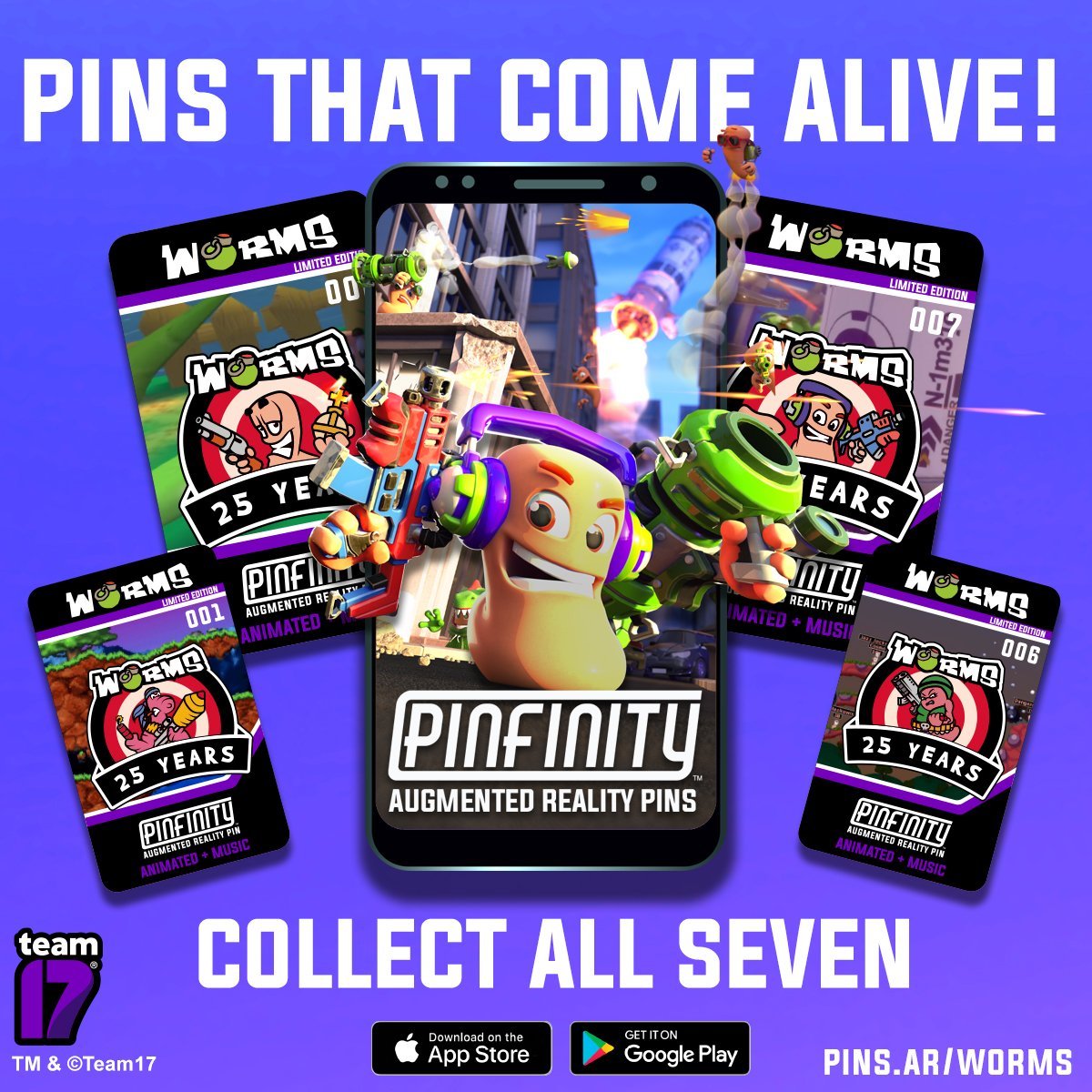 Pinfinity is proud to announce a new partnership with the amazing team at Team17, the creators of the Worms franchise! 
The incredible folks over at Team17 have been rolling out several big new additions to the iconic Worms franchise in honor of it's 25th Anniversary! From fan-made updates to one of their biggest games, to a brand new entry to the franchise, and much more, the 25th birthday of Worms has been an exciting one - and now they're adding some AR magic with Pinfinity!
Worms debuted in 1995 and has been an award-winning video game franchise ever since, spanning over two decades, and delighting gamers across multiple console generations - from the original PlayStation, all the way to Worms Rumble, recently released for PlayStation 4, Steam, and the brand new PlayStation 5! 
Pinfinity is joining the 25th birthday party for Worms with some new goodies of their own, namely a brand new seven-pin collection that feature animations and videos that encompass the entire 25 years of Worms. Each of our seven Worms pins will come alive in Augmented Reality video content that encompass the entire 25 years of Worms, and will also feature awesome downloadable wallpapers!
"Creating these seven exclusive pins as an extension of the Worms experience for fans was an amazing opportunity for us," says Caleb Paullus, Pinfinity's Chief Creative Officers and one of the company's Co-Founders. "We were honored to be a part of the 25th anniversary of Worms, and we can't wait to hear what Worms fans think of our pins!"
The entire seven-pin series is on sale NOW, and for a limited time you the whole collection is 25% off, in honor of 25 years of worms! Don't delay, get your Worms pins today!
Celebrate 25 years of Worms by getting your very own AR Worms pins today at pins.ar/worms!
---