It was adorable.
It was adorable and got to me before it was schedule to!
Love It!
I Love This pin! I'm such a nerd when it comes to Tetris and this is such a great pin to wear. AR is the way to go and Pinfinity is killing it! Keep it up!!!
Great gift!
I bought two of these, one for myself and the other for a friend of mine that reintroduced me to Tetris. Since then I've played the game wherever possible. The AR tech on the pin is so cool! The music and the secret menu amazed me as well!
Such cute pins.
The pins meet all my expectations. Very enjoyable. Fun to have.
Tetris Fan!
This is my first pin from Pinfinity and my mind was blown away when I used AR for the first time. The pin design is very accurate to the classic Game Boy, not to mention the metal pin feels like high quality and not cheap metal. If you're a pin fan or a Tetris fan, then I highly recommend getting this pin!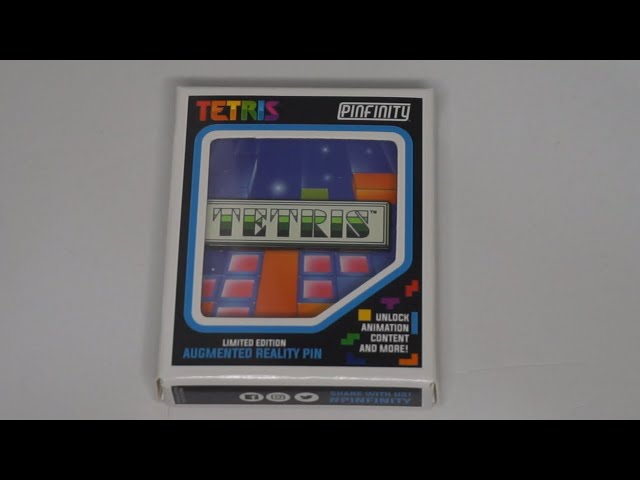 Great pin
Absolutely stunning piece for the collection, the quality is phenomenal!
Tetris pin
Fantastic pin and an awesome AR experience!
Fantastic pin!
I have a pin board at work, and have added it to my collection there. The gorgeous Gameboy green really helps it pop, and a few of my coworkers were amazed when I showed them the app experience.
Bleeds nostalgia
From the GameBoy green color to the classic Russian folk song as well as the cool spritework, this pin bleeds nostalgia and I love it!
Amazing
I've never seen such cool interactions in something simple as a pin!
Fun and Cute
This pin is so cute. I love sharing MLP with my daughter. We love the extra screen savers and selfie mode. These pins are super fun!
Super cute pin for your favorite Brony
I am very impressed with the animation on my own personal Pinkie Pie. And my son loves his Rainbow Dash.
Love Love these pins!
Ordered the entire My Little Pony pin set for my six year old granddaughter. She's now obsessed with the pins and animations. Now we're looking for a special lanyard for her Pony pin collection..... Beautiful pins and perfect for girls in love with all things My Little Pony!
Love it!
My Girls love their new My Little Pony pins. It goes great on their jeans jacket